We spend more of our waking hours with co-workers than we do with our significant others, so take advantage of Valentine's Day and celebrate colleagues! If you focus on gratitude and appreciation, it's perfectly appropriate and thoughtful to do.
Valentine's Day in the workplace should be about celebrating workplace colleagues and a culture of kindness and compassion. Steer clear of romance and relationships. The opportunity is to communicate value for great working relationships and a culture supportive of compassion and camaraderie.
Celebrate Workplace Friendships – They're So Important
Gallup always seems to have their fingers on the pulse, so when Annamarie Mann reported on data about workplace friendships, we're inclined to pay attention.
It turns out that our friendships at work are quite significant:
We want work to feel worthwhile and having trusted confidants and supporters helps foster that feeling. We go to our work friends when we need to celebrate and commiserate about our personal and professional lives.
Gallup's research has shown a link between having a best friend at work and the amount of effort expended by employees in their job. Women who strongly agree they have a best friend at work are more than twice as likely to be engaged (63%) compared with the women who say otherwise (29%).
Gallup has consistently found that for women and men having a best friend at work leads to better performance.
When employees possess a deep sense of affiliation with their team members, they are driven to take positive actions that benefit the business — actions they may not otherwise even consider if they did not have strong relationships with their coworkers.
Here are some ways leaders can encourage friendships at work:
Promote open communication and collaboration – communication and collaboration are cornerstones of an inclusive culture and provide a natural pathway to friendship.
Encourage people to get to know one another – when employees are involved with projects with employee outside of their immediate team can lead to opportunities for personal connections.  Participation in philanthropic events can benefit the community and allow employees to make connections with colleagues they wouldn't have interacted with.
Promote and participate in social activities -leaders set the tone for workplace culture and through their actions make it acceptable or unacceptable for employees to become friends.
Read More
With an acceptance rate under 7% and ACT scores of admitted students hovering around 32-35, the likelihood of most people having access to an Ivy League education in Yale's hallowed halls are slim. But we can all benefit from the fascinating and completely practical information that is shared in one of that revered educational institution's most popular courses, "Psychology and the Good Life."
Psychology Professor Laurie Santos specializes in evolution and animal cognition, but after living among undergrads when she became head of Yale's Silliman College (think the Houses of Hogwarts), she realized just how stressed out and depressed they were.  Reviewing mental health surveys from the
National College Health Assessment
she learned that the issues Yale students were having were similar to those of college students across the country.  Students report already high and increasing rates of anxiety, depression and hopelessness.
Santos set out to design a course to convey not just the science behind
positive psychology
research but how putting those concepts into practice could have a profound impact on students' happiness and quality of life.  Santos did not anticipate the the overwhelming interest in her course from students (1 in 4 students at Yale have taken her class), nor did she predict that it would become a sensation with articles in the
New York Times,
O Magazine
, national
television appearances
and international media coverage.
Read More
We all know that New Year's resolutions are often hard to keep.  But if one of your workplace goals was to get a better handle on employee engagement planning in 2019, that resolution is now easier to keep with the use of gThankYou's 2019 Day-to-Day Employee Appreciation Calendar!
If you are familiar with our annual calendar chock full of engagement and appreciation ideas, then you've probably already done the free download because you know what a valuable (and fun) tool it is.
Not familiar with it?  Start by filling out the short online form and you'll have a FREE, indispensable and inspiring guide at your fingertips.  Here's what to expect for each month in addition to meaningful, compelling (yet easy-to-read) articles on an array of topics meant to inspire your planning and workplace activities:
Key stats (in case you still need to prove to leadership how critical employee engagement and appreciation is)
Ready-to-Go Celebration examples (so even if you think you aren't creative you'll have turn-key approaches to create more fun in the workplace)
Mini-case studies (learn what's worked for other organizations)
Plenty of graphics (which make this ebook feel like fun, not work)
Read More
Users have told us they love the monthly and daily idea format and the updated content on how to build a loyal, happy workplace culture through engagement and gratitude. It's our holiday gift to anyone who wants to build a better workplace.
Read More
Hanukka just ended and it's not long until employees start taking off for the Christmas holiday and business winds down for the year.
There's still time to choose a thoughtful holiday gift that will show employees how much you appreciate them.
Last-Minute Gift Ideas Employees Will Love
Here are five affordable employee gift ideas that are convenient enough to arrange at the last minute. Don't forget to share your gifts with gratitude – the most meaningful gift of appreciation is free!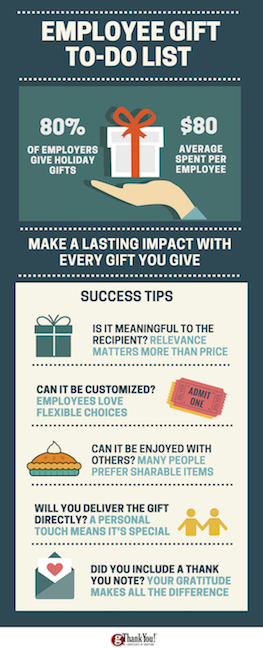 A group gift.
If your time is short, consider a group outing, an upgrade to the break room, or a holiday luncheon or party (if you're not already planning one).
Productivity apps or tools.
Digital apps can be delivered instantly, with no physical orders or trips to the store. Poll your employees on which app will save them time or make them even better at their jobs.
Gift certificates for turkey or ham.
The workplace gift of a turkey or ham is a beloved tradition of gratitude that stretches back decades. Gift certificates eliminate the logistical difficulties of storing and distributing frozen turkeys or hams, and they give your employees the flexibility to choose the sizes and preparations they want.
Read More
This Wednesday, October 31st, isn't just hump day — it's Halloween!  You still have time to organize a bit of spooky workplace Halloween fun to celebrate one of our favorite holidays and your employees.
The Benefits of Workplace Celebrations
Whether it's for Halloween, Thanksgiving, or the winter holidays, celebrations at work foster team unity, spark creativity, and relieve stress. Workplace parties are seen as an expression of gratitude, which boosts employee engagement and loyalty.
Halloween checks all the boxes for a successful workplace celebration; it's participatory by nature, creative, and the focus is on fun. We all love Halloween!
Read More
If you're still ordering frozen turkey gifts for your employees, 2018 should be the year that you replace that burdensome and onerous approach with turkey gift certificates from gThankYou.  We assure you that this easy process will literally and figuratively lighten your load.
Turkeys remain the quintessential holiday employee gift.  Always the star on the table at Thanksgiving gatherings across the country, turkeys are a welcome and appreciated gift.  They are the perfect way to underscore how thankful you are for your employees' contributions and loyalty.
There is no longer a good reason to struggle with frozen turkey gifts. gThankYou! Turkey Gift Certificates are good for any brand and size whole turkey, at major grocery chain stores nationally. Recipients love having the ability to choose the turkey they want for their family. Instead of having your team spend time on frozen turkey logistics, they can spend it on what really matters – engaging employees and sharing heartfelt appreciation.
Read More
Gratitude in our personal and professional lives is a trending topic these days, but when we first introduced our popular ebook, Transforming Your Workplace With Gratitude, in 2013 we were in the vanguard of the workplace gratitude movement as it relates to company culture and employee engagement.
Sharing new information related to this fascinating topic through our publications and blog has long been a priority and we're proud to release this newly updated 2018 edition.
Since its introduction, our eBook on workplace gratitude has been a helpful guide for companies, large and small, as they learned to embrace an attitude of gratitude.  Over the last five years, research has underscored the power of gratitude in our lives.
This growing body of research demonstrates that companies that make an effort to appreciate employees are among the most successful, most innovative companies in the world and have the highest rates of employee satisfaction and retention.
Our original 2013 version has been completely rewritten with a focus on how to build authentic appreciation in the workplace today. While the key element in achieving that remains gratitude, the book is an exciting resource for businesses who are either curious to learn more as they embark on this journey or remain committed to sustaining a culture of appreciation.
Why We Love Workplace Gratitude
In his book "The Little Book of Gratitude," the world's foremost gratitude expert, Professor Robert A. Emmons, calls gratitude "the ultimate performance-enhancing substance."  Who wouldn't want that in the workplace?
Imagine what your work team could accomplish with a 50 percent jump in productivity. What if you could slash voluntary turnover by 31 percent?
Part of the answer lies in just two words: "Thank you." Experts agree that authentic gratitude makes all the difference.
"Thank you" is more than good manners. it's a powerful force that elevates employee wellbeing, loyalty, productivity and business performance. Not convinced? Download our free eBook and learn why leading business executives take workplace appreciation very seriously.
We feel strongly about the transformative power of gratitude and think you will too!
Read More
Maybe your New Year's resolution for 2018 was to get organized and plan ahead for employee engagement activities at your job.  2018 is winding down but that doesn't mean you still can't take advantage of the helpful tools and creative ideas to energize the holiday season in your workplace with gThankYou's 2018 Day-to- Day Employee Celebration Calendar. 
A lot of great things can happen in the next three months and this how-to guide will aid you in building an everyday culture of appreciation.  Each month includes dates to celebrate and a mini-case study.
October's focus is on fun, November includes tips on writing a meaningful Thanksgiving Letter for employees and December delves into what our employees really want for the holidays.
Fourth quarter is also a great time to plan for next year!
We'll be launching our updated 2019 Employee Celebration Calendar soon – newly updated and full of fun ideas and inspiration for your planning. It's the perfect supplement to building out your employee engagement plans for the new year.
Create Your Own 2019 Employee Engagement Calendar
Need inspiration to start on your 2019 planning?
Christina Thompson, writing for Quantum Workplace, has outlined some excellent strategies for creating a custom calendar.  It's a great way to start working through your plan thinking. She advises asking yourself questions about the following topics and consider the communication needs and timelines that come with each:
Read More