Your employees work hard for you all year, and what better season to show your appreciation and gratitude than now, as we celebrate Thanksgiving with family and friends.   Whether it's with a gift of a Thanksgiving Turkey or a handwritten thank-you note, your gratitude will be appreciated.  It's the perfect time to put the "thanks" in Thanksgiving.
1.  Deliver Your Gifts Personally
If your budget allows for a Thanksgiving gift, and you can, deliver your gift personally to employees, with a handshake, a smile and a thank you. After all, as Doug Conant , former Campbell's Soup CEO and the architect of a successful turnaround there says, "You're on display 24/7. It's not the words on the wall; it's how you show up in every interaction."
In an interview on Rules for Leaders at ChiefExecutive.net, Conant urges CEOs to recognize the importance of every exchange with employees, no matter how small.  He's so passionate about this topic, he co-wrote a book around this subject that you might enjoy, TouchPoints: Creating Powerful Leadership Connections in the Smallest of Moments.
2.  Send Them with a Personal Thank You Note

If a gift isn't in the budget this year, or personal delivery isn't practical, send a handwritten thank you note to each employee.  Making that connection early with employees, and always looking for opportunities to celebrate them, is a great way to strengthen your relationship.
A personal thank you means a lot to employees. Says Conant in his HBS blog "Secrets of Positive Feedback", "believe it or not, I've sent roughly 30,000 handwritten notes to employees … over the last decade".  While some react that thank you notes are a waste of time, Conant says in his experience they "build goodwill and boost productivity".
Include a Quote
For a change, consider using an inspirational quote to express your thanks. Although you'll probably want to echo William Shakespeare's tone in the play Twelfth Night,
"I can no other answer make, but, thanks, and thanks,"
rather than former British Prime Minister Benjamin Disraeli…
"I feel a very unusual sensation—if it is not indigestion,
  I think it must be gratitude."
Sorry, we couldn't resist—these quotes and more are available at The Quote Garden.  Another favorite resource is Bartlett's Familiar Quotations.
Thank You Note Templates by Lynn Gaertner-Johnson
Not sure where to start, or looking for a different approach for your thank you note?  Lynn Gaertner-Johnston, founder of Syntax Training, offers these and more thank you note templates in her Business Writing blog:
"Employee "Thank You":
Dear ______________ [name],
During this month of Thanksgiving, I have been reflecting on the things I am most grateful for. Primary among them is our talented group of employees.
Thank you for the work you do to make our organization great. You help us provide award-winning services to our clients. Without your commitment, creativity, and high standards, we would not be the thriving company we are. I am very grateful for your efforts.
I wish you a Thanksgiving filled with abundance and bright moments.
Warm wishes,
______________ [name of senior executive or manager]
Brief  "Thank You" to Employees:
Thank you for everything you do to make this a successful, terrific place to work. Have a wonderful, long weekend filled with good things!
Happy Thanksgiving!"
In addition to Lynn's examples, you can also find sample employee thank you letters online at Thank You Notes & Cards.
3.  Show Your Thanks
If you prefer, show your thanks by dedicating an initiative desired by employees and hold a "thank you" party to roll out introduction.  Or, poll employees as to their top choice for "giving back" to your community and organize an all company (that means Management too) community service project.  A great way to put the "thanks" into Thanksgiving is rolling up your sleeves with employees to work together to help those in need.
Regardless of your style and how you do it, connecting with employees and taking the opportunity to thank them, when ever you can, pays dividends for everyone.
4.  Have Faith in Turkey as the Ideal Workplace Gift of Thanks
A turkey on the table is synonymous with giving thanks and family.  Most people have fond memories with Thanksgiving — the delicious aroma of a turkey cooking, gathering with family and friends, reflecting on the year and sharing hopes for the new year ahead and taking the opportunity to slow down and bit and show gratitude for the good things in life.  As the centerpiece of the holiday meal, the turkey will remind your employees how much you appreciate them and their role in your company.  If you like having all the facts in one spot about why turkeys are the ideal way to show gratitude, just refer to our helpful resource "10 Reasons to Give Employees a Turkey for the Holidays" and we imagine you'll be convinced.
5.  Let gThankYou! Make it Easy for You 
When it comes to thanks and Thanksgiving, this is our sweet spot.  We think about this year round and are always fine tuning our resources and processes to make this is as easy as possible for you (and your employees).  Here's a quick roundup of some of the ways we can simplify things for you.
Our turkey certificates are easy to purchase, either online or over the phone (888-484-1658). And almost all orders ship the same day.  You can easily distribute the certificates, which fit into a standards size business envelope) in person or through the mail (which certainly beats dealing with cumbersome turkey storage issues).  The flexibility of giving certificates which are good for any brand and virtually any grocery store in the U.S. means that recipients can choose the turkey that fits best into their holiday plans.  We can work with budgets of every size and will help you personalize the Certificates as well as provide free custom enclosure cards (you can even add your own message and logo).
All the best for a safe and happy Thanksgiving!
Send Us Your Stories
How do you put the "thanks" into Thanksgiving at your workplace?
We have a free eBook that can walk you through the process of crafting a memorable and meaningful Thanksgiving letter for employees.  Whether this is your first time writing this type of letter or you are looking for inspiration after many years of sharing your appreciation with employees, we have tips and strategies to help clearly communicate your gratitude in a heartfelt manner this holiday.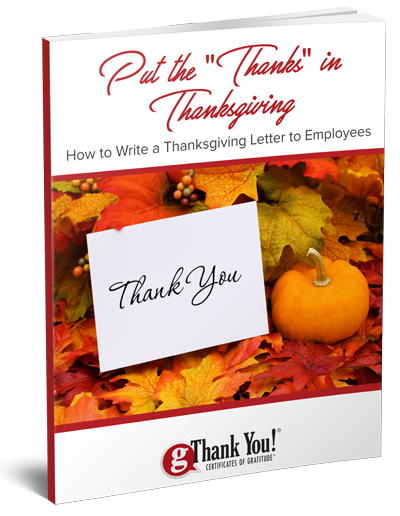 Learn More About gThankYou!
Gift Certificates
Download Our Free Guide Now!