Hanukka just ended and it's not long until employees start taking off for the Christmas holiday and business winds down for the year.
There's still time to choose a thoughtful holiday gift that will show employees how much you appreciate them.
Last-Minute Gift Ideas Employees Will Love
Here are five affordable employee gift ideas that are convenient enough to arrange at the last minute. Don't forget to share your gifts with gratitude – the most meaningful gift of appreciation is free!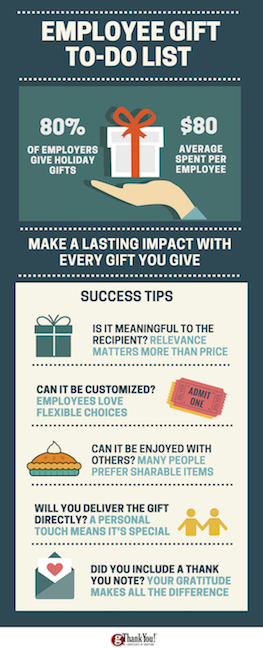 A group gift.
If your time is short, consider a group outing, an upgrade to the break room, or a holiday luncheon or party (if you're not already planning one).
Productivity apps or tools.
Digital apps can be delivered instantly, with no physical orders or trips to the store. Poll your employees on which app will save them time or make them even better at their jobs.
Gift certificates for turkey or ham.
The workplace gift of a turkey or ham is a beloved tradition of gratitude that stretches back decades. Gift certificates eliminate the logistical difficulties of storing and distributing frozen turkeys or hams, and they give your employees the flexibility to choose the sizes and preparations they want.


Order gThankYou Certificates of Gratitude today and you'll have them as soon as tomorrow!

Personalize your Certificates with your organization logo and pair it with your choice of free holiday-themed Card with your heartfelt message of thanks.
At gThankYou, we want employee gift-giving to be meaningful, affordable and easy so you can spend your time on what's really important – engaging and appreciating employees.
Happy gift-giving!

Learn More About gThankYou!
Gift Certificates
Download Our Free Guide Now!