The Workplace Has Changed
Our work lives have been transformed by the pandemic. Despite the optimism brought by vaccine approvals, the fact remains it may be a long-time before we are back to business as normal, if at all.
This new world of work provides both challenges and opportunities for recruiting, nurturing and retaining employees. Workplace leaders recognize the value of being creative and adaptive during these times.
Josh Bersin, HR industry expert, sees this time "as an incredible opportunity to transform". "Companies are treating employees better than ever." There is a new focus on protecting employees' "personal productivity, wellbeing and personal resilience."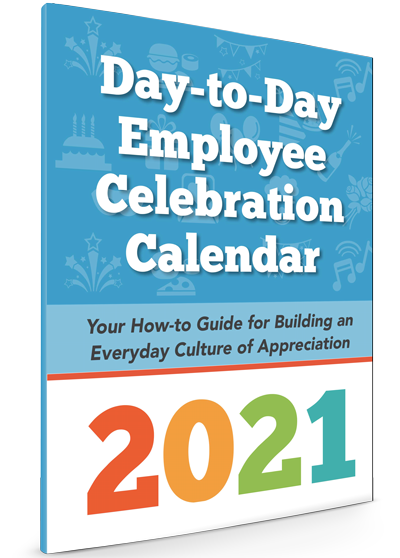 Rethinking Employee Engagement and Appreciation
Our Employee Celebration Calendar could not come at a more needed time.
We have created a resource that presumes social distancing and remote work will dominate 2021. And, one that provides the inspiration and creative ideas to help keep employees feeling valued and important to the success of your organization in the uncertain year ahead.
Take advantage of this unique time to invest in employee engagement. Our popular one-of-a-kind resource provides the fresh perspective and resources you need to retool your employee appreciation efforts for today's workplace.
Showing appreciation is even more crucial now.

As Sabina Nawaz wrote in a Harvard Business Review article about how a little thanks goes a long way:

"Research clearly indicates expressing gratitude is beneficial to our health and well-being.  During a crisis, taking the time to thank others is vital to dampen loneliness, amp up social connection and generate generosity."
We've curated a collection of impactful and inspiring articles, resources, best practices, stats and quotes that will help guide you through 2021.
The year ahead may still present challenges, but it also provides new opportunities to build connections with employees.  Eileen McNeely, a Harvard School of Public Health researcher, shared that her team's studies indicate that caring and empathy from management and employee trust in management is a "great driver of well-being."
As we wrote in the intro to the 2021 calendar, we've seen success stories emerging during the pandemic that underscore what we have known all along — HR leaders are nimble, creative and passionate.  The calendar is a reflection of gThankYou's commitment to helping workplace leaders who continue to create loyal workforces and cultures of appreciation, even during a pandemic.
Your free 2021 Employee Celebration Calendar will guide you through each month with:
Research-based suggestions for building a culture of gratitude.
Monthly celebration ideas to engage employees.
Recommendations for current, topical resources.
Inspiring and current real-world examples.
Don't wait! Download your free copy now and share with colleagues. We hope the new year brings fresh optimism and hope for the future. Visit our website for more free resources for building a lasting workplace culture of gratitude.
Your friends at gThankYou
Learn More About gThankYou!
Gift Certificates
Download Our Free Guide Now!