Hanukka just ended and it's not long until employees start taking off for the Christmas holiday and business winds down for the year.
There's still time to choose a thoughtful holiday gift that will show employees how much you appreciate them.
Last-Minute Gift Ideas Employees Will Love
Here are five affordable employee gift ideas that are convenient enough to arrange at the last minute. Don't forget to share your gifts with gratitude – the most meaningful gift of appreciation is free!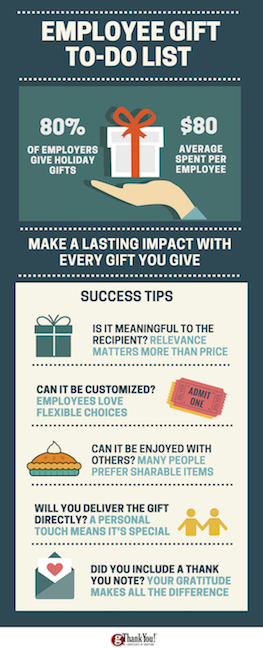 A group gift.
If your time is short, consider a group outing, an upgrade to the break room, or a holiday luncheon or party (if you're not already planning one).
Productivity apps or tools.
Digital apps can be delivered instantly, with no physical orders or trips to the store. Poll your employees on which app will save them time or make them even better at their jobs.
Gift certificates for turkey or ham.
The workplace gift of a turkey or ham is a beloved tradition of gratitude that stretches back decades. Gift certificates eliminate the logistical difficulties of storing and distributing frozen turkeys or hams, and they give your employees the flexibility to choose the sizes and preparations they want.
Read More
This Wednesday, October 31st, isn't just hump day — it's Halloween!  You still have time to organize a bit of spooky workplace Halloween fun to celebrate one of our favorite holidays and your employees.
The Benefits of Workplace Celebrations
Whether it's for Halloween, Thanksgiving, or the winter holidays, celebrations at work foster team unity, spark creativity, and relieve stress. Workplace parties are seen as an expression of gratitude, which boosts employee engagement and loyalty.
Halloween checks all the boxes for a successful workplace celebration; it's participatory by nature, creative, and the focus is on fun. We all love Halloween!
Read More
If you're still ordering frozen turkey gifts for your employees, 2018 should be the year that you replace that burdensome and onerous approach with turkey gift certificates from gThankYou.  We assure you that this easy process will literally and figuratively lighten your load.
Turkeys remain the quintessential holiday employee gift.  Always the star on the table at Thanksgiving gatherings across the country, turkeys are a welcome and appreciated gift.  They are the perfect way to underscore how thankful you are for your employees' contributions and loyalty.
There is no longer a good reason to struggle with frozen turkey gifts. gThankYou! Turkey Gift Certificates are good for any brand and size whole turkey, at major grocery chain stores nationally. Recipients love having the ability to choose the turkey they want for their family. Instead of having your team spend time on frozen turkey logistics, they can spend it on what really matters – engaging employees and sharing heartfelt appreciation.
Read More
Gratitude in our personal and professional lives is a trending topic these days, but when we first introduced our popular ebook, Transforming Your Workplace With Gratitude, in 2013 we were in the vanguard of the workplace gratitude movement as it relates to company culture and employee engagement.
Sharing new information related to this fascinating topic through our publications and blog has long been a priority and we're proud to release this newly updated 2018 edition.
Since its introduction, our eBook on workplace gratitude has been a helpful guide for companies, large and small, as they learned to embrace an attitude of gratitude.  Over the last five years, research has underscored the power of gratitude in our lives.
This growing body of research demonstrates that companies that make an effort to appreciate employees are among the most successful, most innovative companies in the world and have the highest rates of employee satisfaction and retention.
Our original 2013 version has been completely rewritten with a focus on how to build authentic appreciation in the workplace today. While the key element in achieving that remains gratitude, the book is an exciting resource for businesses who are either curious to learn more as they embark on this journey or remain committed to sustaining a culture of appreciation.
Why We Love Workplace Gratitude
In his book "The Little Book of Gratitude," the world's foremost gratitude expert, Professor Robert A. Emmons, calls gratitude "the ultimate performance-enhancing substance."  Who wouldn't want that in the workplace?
Imagine what your work team could accomplish with a 50 percent jump in productivity. What if you could slash voluntary turnover by 31 percent?
Part of the answer lies in just two words: "Thank you." Experts agree that authentic gratitude makes all the difference.
"Thank you" is more than good manners. it's a powerful force that elevates employee wellbeing, loyalty, productivity and business performance. Not convinced? Download our free eBook and learn why leading business executives take workplace appreciation very seriously.
We feel strongly about the transformative power of gratitude and think you will too!
Read More
Maybe your New Year's resolution for the year was to get organized and plan ahead for employee engagement activities at your job.  The year is winding down but that doesn't mean you still can't take advantage of the helpful tools and creative ideas to energize the holiday season in your workplace with gThankYou's Day-to- Day Employee Celebration Calendar. 
A lot of great things can happen in the next three months and this how-to guide will aid you in building an everyday culture of appreciation.  Each month includes dates to celebrate and a mini-case study.
October's focus is on fun, November includes tips on writing a meaningful Thanksgiving Letter for employees and December delves into what our employees really want for the holidays.
Fourth quarter is also a great time to plan for next year!
We'll be launching our updated Employee Celebration Calendar soon – newly updated and full of fun ideas and inspiration for your planning. It's the perfect supplement to building out your employee engagement plans for the new year.
Create Your Own Employee Engagement Calendar
Need inspiration to start on your new year planning?
Christina Thompson, writing for Quantum Workplace, has outlined some excellent strategies for creating a custom calendar.  It's a great way to start working through your plan thinking. She advises asking yourself questions about the following topics and consider the communication needs and timelines that come with each:
Read More
Yikes…summer flew by and it seems that we're careening into fall.  Now that we've cleared the hurdles of Back to School and Labor Day and are about to switch thermostats from cool to heat, wouldn't it be a relief to actually be able to check something important off of your to do list?
If the speed in which the seasons are changing is any indication, the holidays will be upon us soon and things will only get more intense as the fourth quarter approaches.
Employee Holiday Gifts – Planning Now Is The Smart Strategy
By planning ahead, your own holidays may just be a bit brighter and less stressful. (The Mayo Clinic offers some helpful suggestions on reducing holiday stress.)
Wouldn't it be nice to be able to spend time with your own family and friends without the worry looming that you haven't completed your employee holiday gift purchasing?
Perhaps you'll even be able to slow down enough to curl up with a blanket and a book about hygee, the Scandinavian pursuit of coziness and the celebrating life's simple pleasures.
Read More
Building a happy workplace is a priority for many employers. It starts with doing the fundamentals such as diversity, equality and fairness well.  Embrace these and you'll have the foundation needed for building a great workplace. Add a commitment to employee appreciation and you'll create a happy, productive and loyal workforce.
Inequality Breeds Unhappiness
Why is that even when, in general, we are more prosperous, we are less happy?  Jonathan Rauch explores this issue in-depth in a
New York Times op-ed 
In America (and also in other countries), an impressive postwar rise in material well-being has had zero effect on personal well-being. The divergence between economic growth and subjective satisfaction began decades ago. Real per capita income has

more than tripled

since the late 1950s, but the percentage of people saying they are very happy has, if anything, slightly declined.
Although moral philosophers may wish Homo sapiens were wired more rationally, we humans are walking, talking status meters, constantly judging our worth and social standing by comparing ourselves with others today and with our own prior selves.
Rauch further explained, "…people will tolerate and sometimes even embrace inequality if they believe the system is fair and lets them get ahead."  He described a witticism that is often attributed to Gore Vidal,  "it is not enough for me to succeed; others must fail" as being "uncomfortably accurate."  Rauch cited a  
striking experiment
, in which certain households in Kenyan villages were the random recipients of large financial windfalls. The lucky households were happy, but their neighbors experienced increased unhappiness because they felt as they had fallen behind.
Read More
Why are people in some countries happier than others?  What factors contribute to happiness and how can we improve happiness at home and in the workplace?  We can apply lessons from the happiest countries in the world on how to be happy.
Listen and Learn
Freakanomics
recently released a podcast
"How to be Happy"
addresses those questions and does a deep dive into Denmark's consistently high happiness ranking.  It's definitely worth a listen (or a read since it's also been transcribed).  It includes engaging interviews with: Meik Wiking, CEO of the Happiness Research Institute in Copenhagen; Jeff Sachs, economics professor at Columbia University, special adviser to the UN Secretary General on the Sustainable Development Goals and co-editor of the World Happiness Report; and Helen Russell, journalist and author.
What are the Happiest Countries?

The U.N.'s World Happiness Report, which ranks 156 countries by their happiness levels and 117 countries by the happiness of their immigrants (and also serves as an antidote to our unhealthy obsession with Gross Domestic Product), is typically topped by Nordic countries.  In 2018 Finland took the top spot as the happiest country.  The rest of the top ten in order of overall happiness were Norway, Denmark, Iceland, Switzerland, Netherlands, Canada, New Zealand, Sweden, and Australia.
The U.S. ranked 18th, dropping down four spots from last year. Sachs explained, "The U.S. happiness ranking is falling, in part because of the ongoing epidemics of obesity, substance abuse and untreated depression."
Read More
If you're reading this blog post, it's probably because you care about employee appreciation and you may be wondering how digital feedback platforms can help (and which ones could be a good fit for your company).
Why Employee Appreciation Matters
In a Workplace article on Gallup's website examining the impact of employee recognition, writers Annamarie Mann and Nate Dvorak point out:
Beyond communicating appreciation and providing motivation to the recognized employee, the act of recognition also sends messages to other employees about what success looks like. In this way, recognition is both a tool for personal reward and an opportunity to reinforce the desired culture of the organization to other employees
Three words are key when it comes to employee appreciation according to Gallup's results:  honest, authentic and individualized. Read on to learn how digital feedback platforms can help make employee appreciation a daily work habit.
Read More
On September 3, the Greater Good Science Center at the University of California, Berkeley, will launch a new online course, "The Science of Happiness at Work." Based on the center's hugely popular free course "The Science of Happiness," this new course will teach attendees why it matters so much to promote happiness in the workplace and how to do it. As the center puts it:
People who are happier at work are more committed to their organization, rise to positions of leadership more rapidly, are more productive and creative, and suffer fewer health problems. More and more, research is suggesting that happiness should not be an afterthought for workplaces; it should be an essential goal, entwined with the kinds of 21st century skills that are key to individual and organizational success today.
And a key element of happiness in the workplace is gratitude. In fact, gratitude is a key element of happiness anywhere, according to decades of research on the subject. As researcher Sonja Lyubomirsky — author of the bestselling The How of Happiness and The Myths of Happiness — explains in this short video, gratitude does a number of things to pave the way for happy feelings.
Read More